I just logged into my American Express online account, I do this at least every Monday to check balance, recent transactions and all the offers they have. The card I have is the Blue Cash Everyday®. This is a $0 AF card that gives 3% cash back on supermarket purchases.
What I found great about American Express is that they have a section called "Amex Offers & Benefits" (when you create an account and sign in online). In the past I have used extra discounts for gas, Amazon shopping, Sam's Club memberships, car wash, Hulu and even for paying my internet bill. Sometimes the discount is 10% cash back or more, other times a direct statement credit.
This time I have the following offer (among many others, but this one I'm sure I'll use):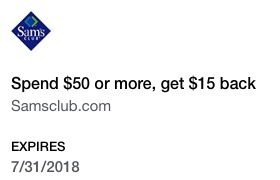 Details: Get a one-time $15 statement credit by using your enrolled card to spend a minimum of $50+ in one or more transactions online at Samsclub.com by 7/31/2018. See terms for exclusions.
Offer Terms: You can see the full offer terms when you login to your account. Remember, not everyone with an American Express account will see the same offers, so you may not have this offer.
A couple of months ago I got an offer for Sam's club too, but the terms were Spend $30 or more, get $15 back. That time I used the offer to buy Slim Fast (I'm trying to lose weight). Usually I get the statement credit a week after the purchase, sometimes I get an email from Amex thanking me for using an offer but other times I don't get the email.
How to maximize your offers
If you have a spouse, children (over 15) or other people that you trust and control, you can give them an additional card. Each person can create an online account to check the use of their card and they will also get the 'Amex Offers & Benefits' section, so they can add an use some of the offers too.
Other offers worth mentioning
At this time, I also have a 15% offer for Starbucks (up to $5 back), spend $150 or more, get $30 back at Ray-Ban.com and get 10% back on your cell phone bill (limit $20 in total credits).
I'm thinking about creating a post explaining in more detail what the American Express Blue Cash Everyday card is a good choice for people and talk more about the benefits. I think I'll make new posts about other offers I find that may be helpful for others to know.
What do you think about American Express cards and offers? Do you use any American Express card? Please comment below.