This information is for our readers living in USA.
Redbox is a company that rent movies from boxes that are at many places. Sometimes inside buildings and sometimes outside. This boxes are clearly marked and they use the color red most of the time (I have seen some boxes in blue inside some Wal-Marts). This company started some years ago and now they have many thousands boxes that rent movies.
Some of the good things about Redbox:
Inexpensive rental price, usually $1.50/day for a DVD and a little more if it is Blu-Ray
They rent videogames also
You can return the movie in any Redbox and not only the one you used to pick it up (this is great when you travel with your kids and have a DVD player)
You can pick your movies online and select the red box where you will pick the movie
You can subscribe to their points system and get points every time you rent. You can use those point to get free movies
You can get codes/coupons and get the movie from less
Here we are going to talk about how you can get coupons. Sometimes those coupons can even be for a free rental.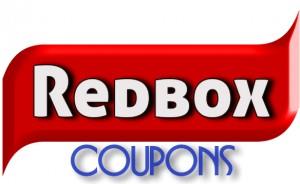 You can get a coupon until October 11 just by texting DEALS to 727272. After you do that you will get by text a code that you can apply when you rent (online or at the box), remember that sending/receiving text messages can cost you, please check your cel plan before sending texts.
The codes you can get by texting vary, some of the codes can give you:
$X.xx discount for a rental ($0.25, $0.50, $0.75, $1.00)
Discount if you get multiple discs ($1.00 if you rent 2)
Free rental code (for a DVD, for Blu-ray you have to pay less for it)
Free game
Next you can see an example from a text send to DEALS: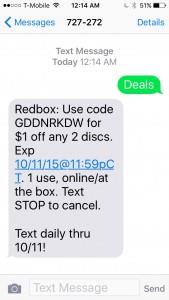 This is a valid coupon with an expiration date of October 11. This coupon is valid at the time this post is made and one person can use it (this is a 1 time use coupon, so the first person that use it will have the promo).
We will love to hear that you use it the code. Please complete the form below and tell us that you use it. Thank you.
Promotion: We have a few codes that you can use to rent 1 free DVD that expire October 11.
If you want a code please fill the form below (name, email and tell us 'I want a coupon'). The code will be sent to your email (first come first served) as soon as possible.
This article will be updated as soon as the codes run out or the codes are not longer valid (expired)